Waushara County Health Department will be offering a FREE walk-in Tdap immunization clinic for any student entering 6th grade. Aug. 9th 4-6pm & Aug. 17th 4-6pm
Delicious! 😋 Summer school students made apple ring "donuts"! #WildRoseWildcats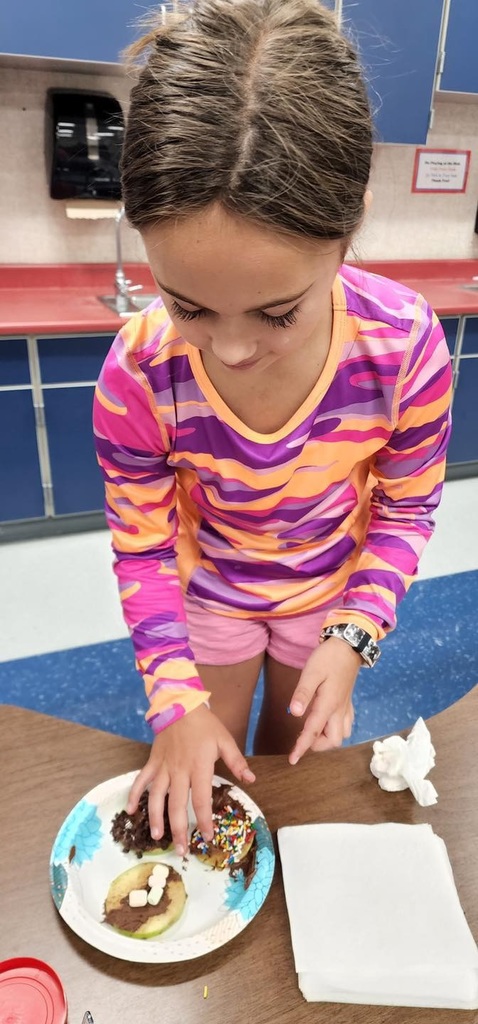 Summer School is in full swing! We're so proud of these #WildRoseWildcats for choosing to spend their summer learning! 😊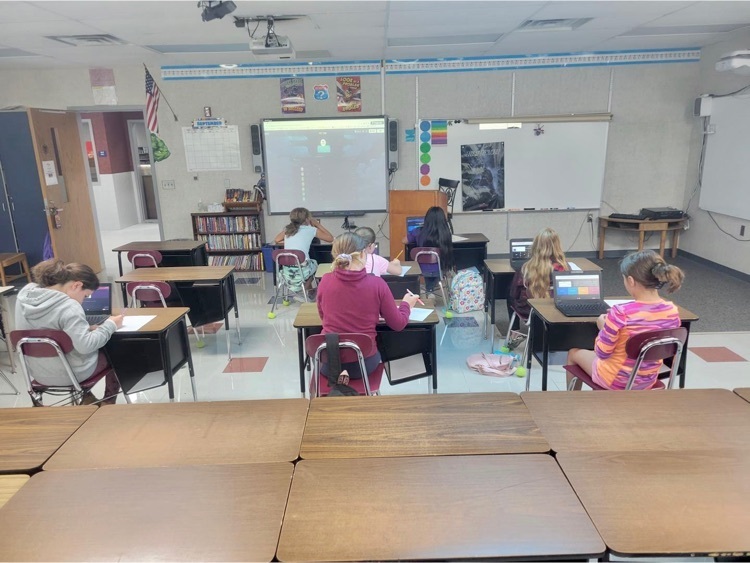 BUS DRIVERS ARE NEEDED! We are hiring route drivers, substitute drivers, and trip drivers. Trip routes are great for parents or family members who already go to their child(ren)'s games, coaches, or community members who like to watch WILDCAT events! Contact Cherie Hennes at 920-240-6554 or
hennesc@wildroseschools.org
for more information!

​The School District of Wild Rose is in high need of the following positions: 6-12 Choral Music Teacher School Bus Driver Food Service Director Instructional Assistant Custodian Part-Time Kitchen Substitute Teachers Substitute Bus Drivers Substitute Support Staff Applications are available online at
https://www.wildrose.k12.wi.us./page/employment
or contact Tammy Wilkinson in the District Office (920) 622-4201 ext. 1400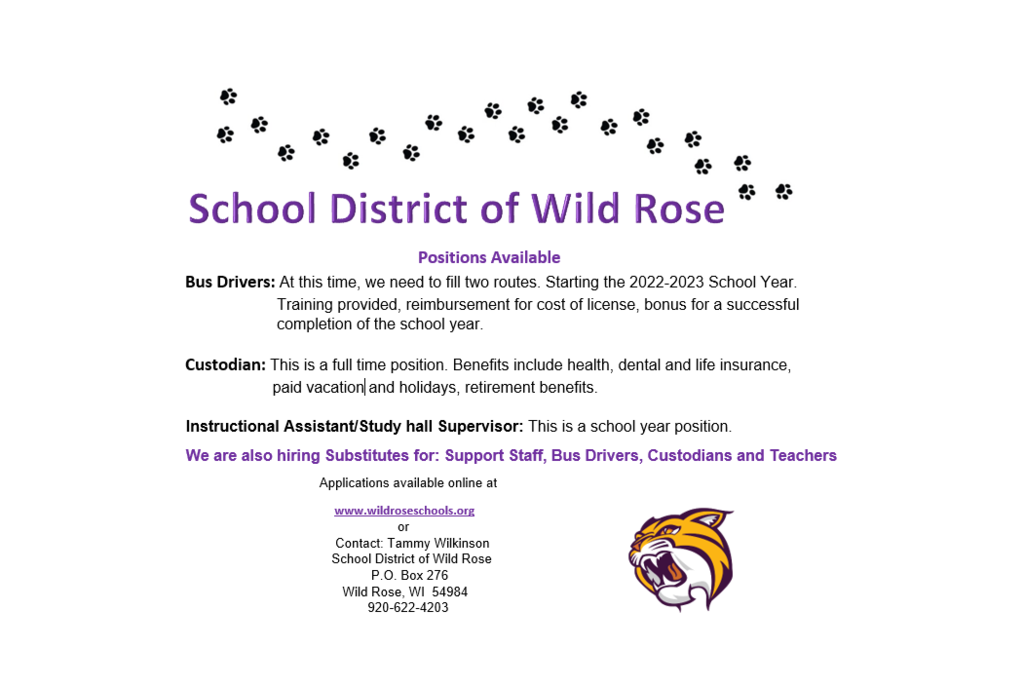 The School District of Wild Rose is searching for a Food Service Director. If interested please contact the District Office.

The School District of Wild Rose is in need of 2 Bus Drivers for the start of the school year. Flexibility in part-time or full-time.
Need to get updated on your COVID vaccines or start the series? Join us TODAY from 3pm-6pm at the Wild Rose High School auditorium lobby for this FREE event!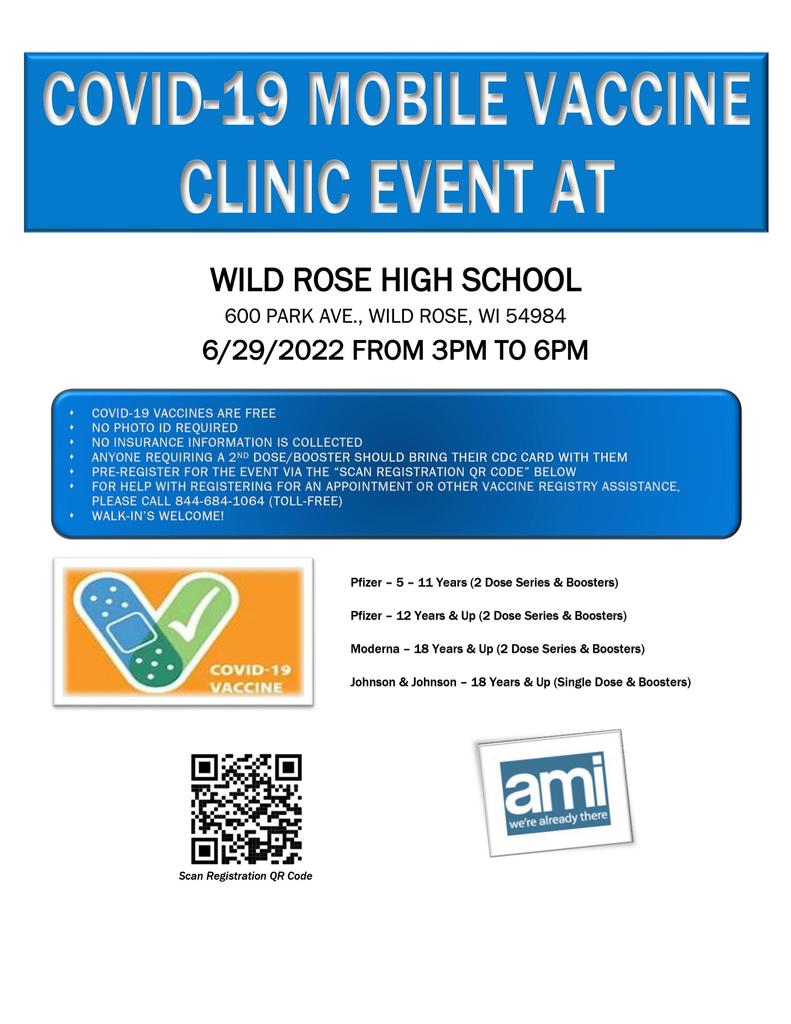 CONGRATULATIONS to Orria Wood! Orria has been named to Wisconsin Basketball Coaches Association All-Star Team!! 🏀 If you would like to make a donation to support Orria in her efforts to help their charitable organizations, please visit the website below:
https://tinyurl.com/2p97mb3j
Orria's goal is to raise $500 or more in donations for the MACC Midwest Athletics Against Childhood Cancer. #WildRoseWildcats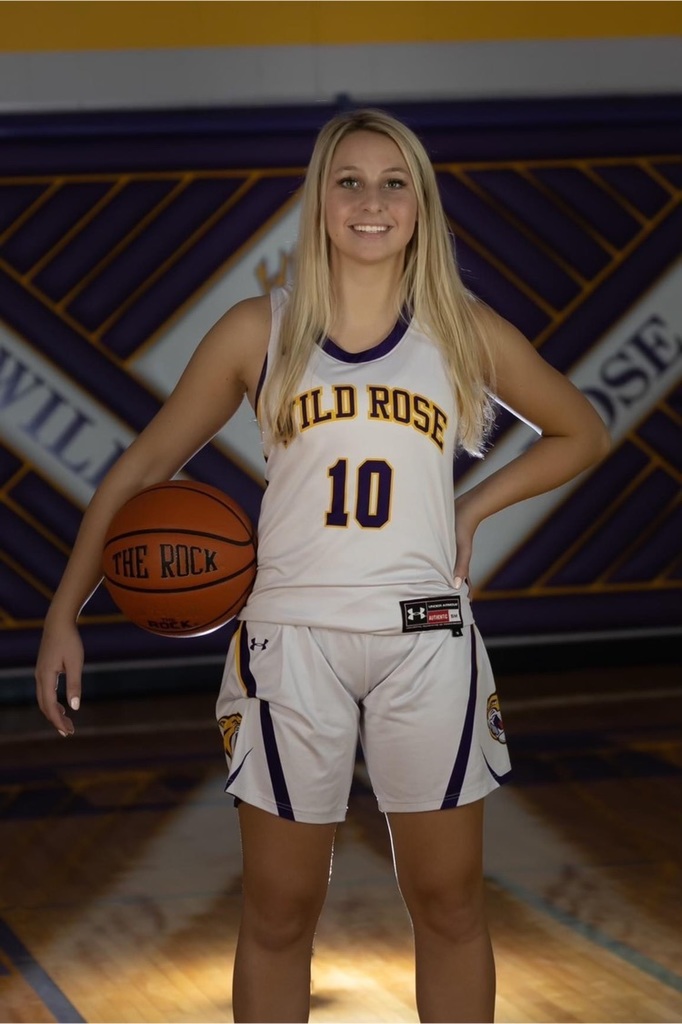 Kindergarten students enjoyed duck, duck, splash for water day! #WildRoseWildcats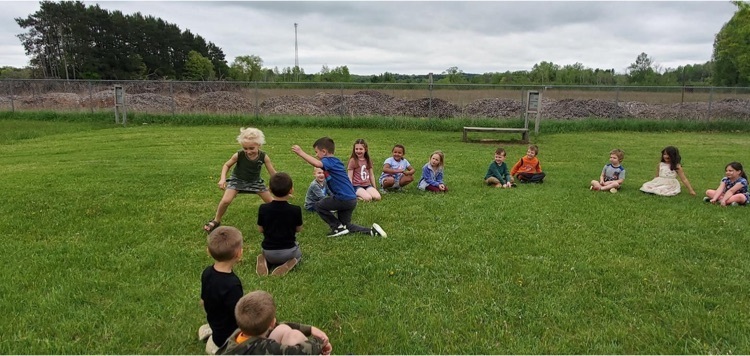 The SADD 2022 end of the year field trip to Wisconsin Dells was a jam-packed day! They had beautiful weather which helped make the day! It started with laughs and splashes at Mt. Olympus and putting practice at Pirate's Cove, then shopping at the candy store and downtown Dells, ending with a yummy dinner at Pizza Ranch! Thank you SADD students, chaperones and Mrs. Hennes and Ms. Dohr for making this the perfect last one! #WildRoseWildcats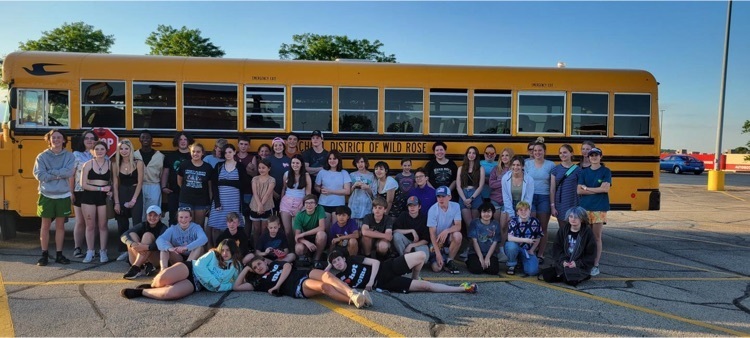 A trip down memory lane! 💜💛 Senior #WildRoseWildcats returned to the elementary school before graduation. Here are more great photos from their walk over!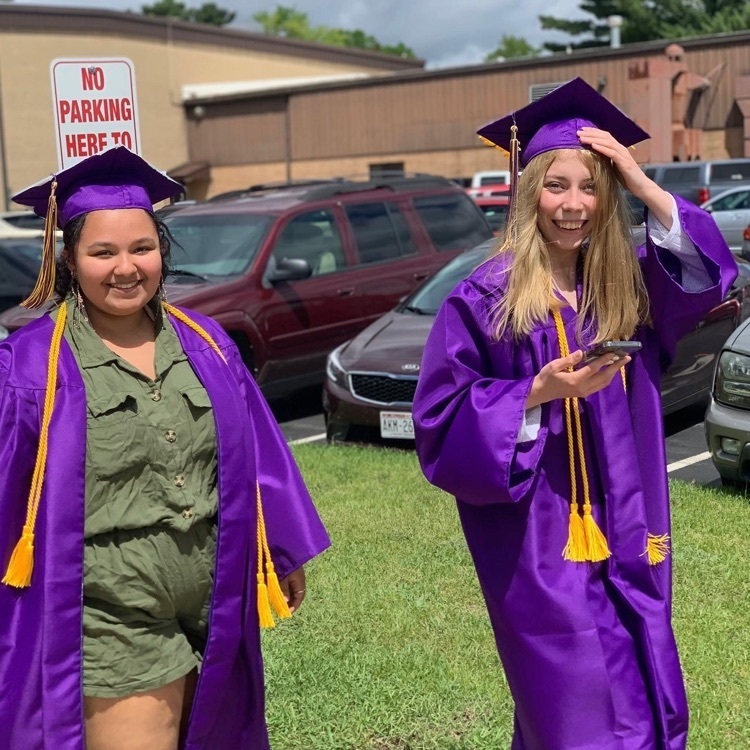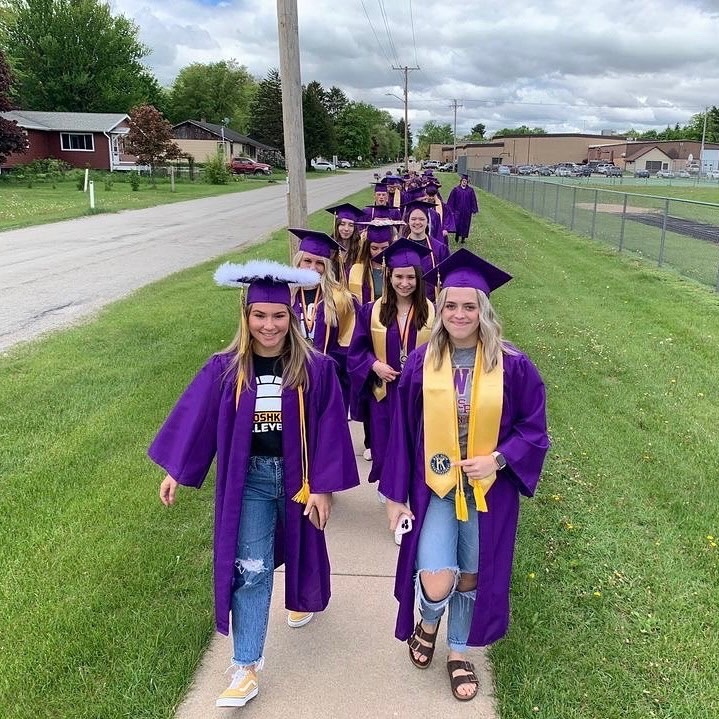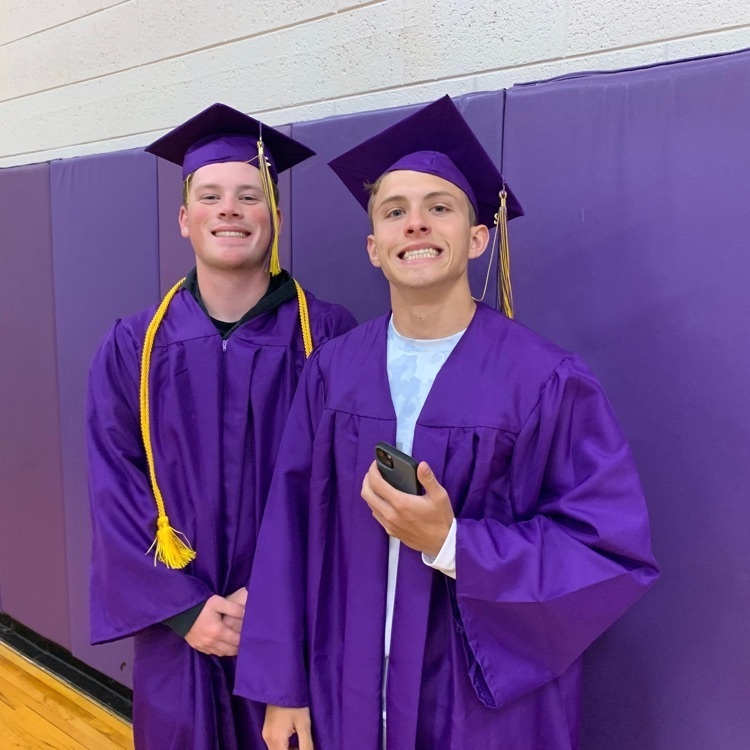 Congratulations to our 8th grade #WildRoseWildcats graduates!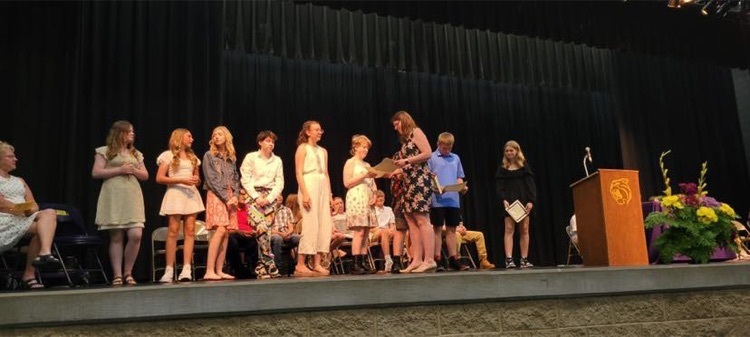 Join the Walk-the-Waush Challenge and enjoy hiking the beautiful trails of Waushara County.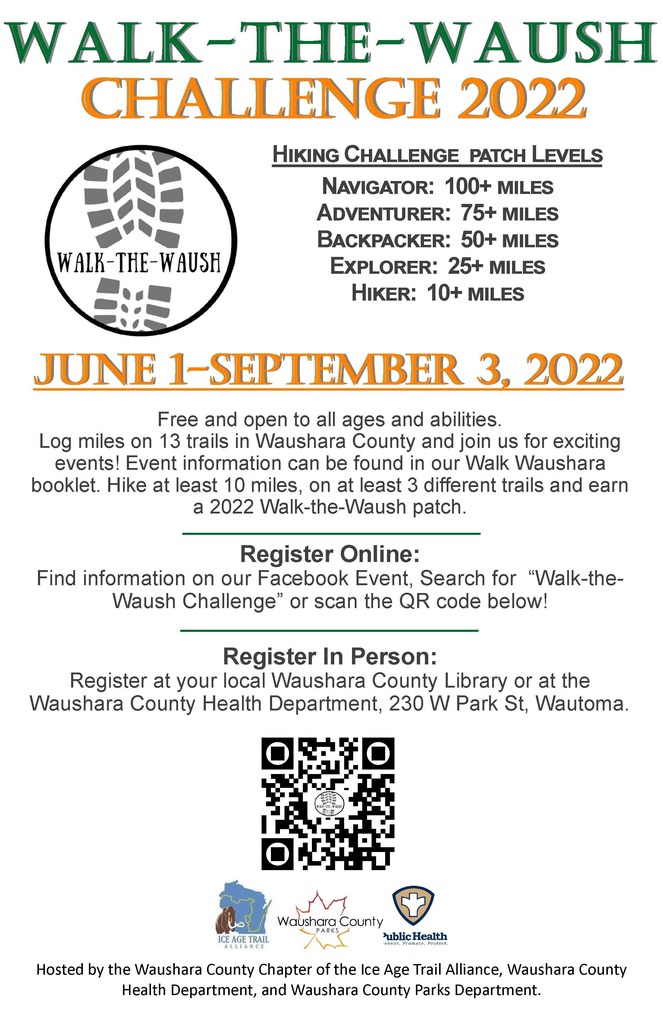 WRE students took a school trip to Evergreen Campsites & Resort! 😊 #WildRoseWildcats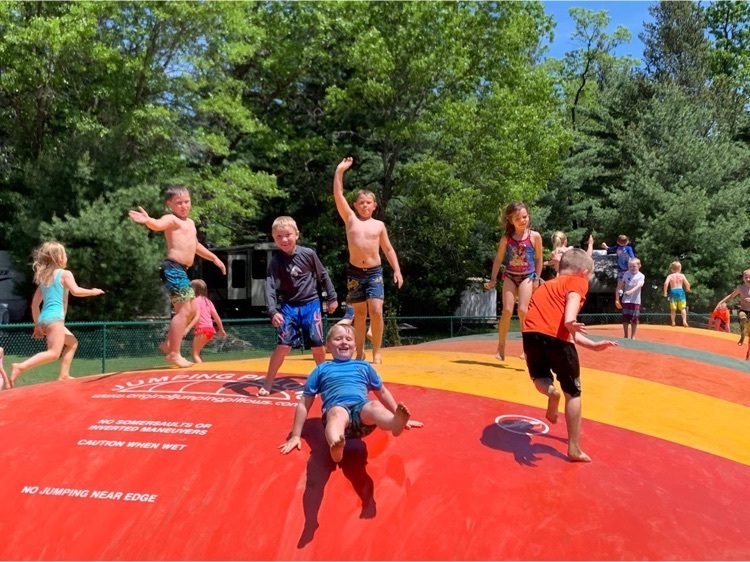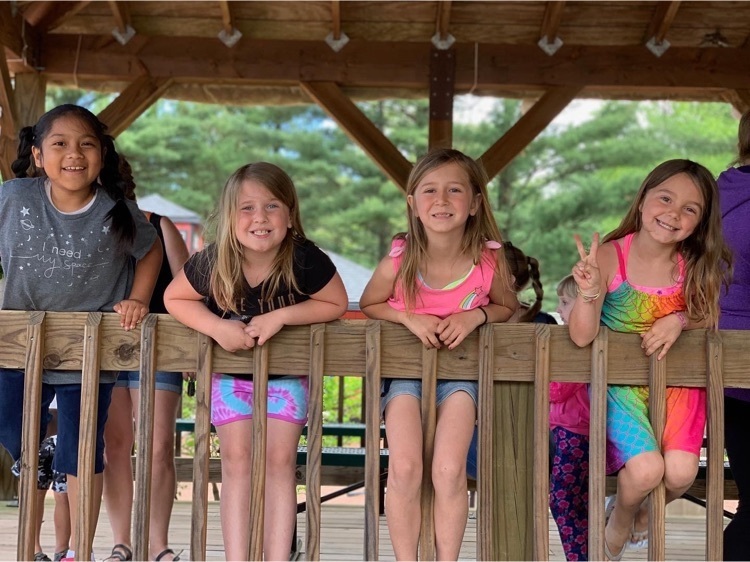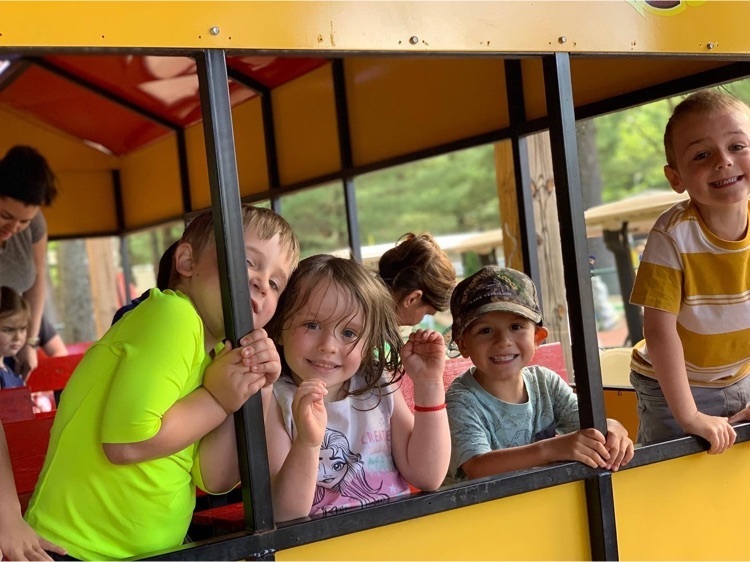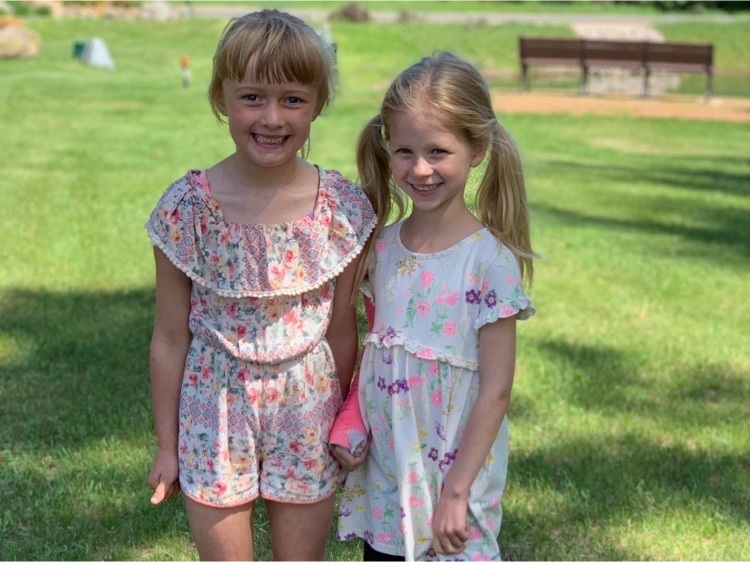 A big THANK YOU to the Community Foundation of Central Wisconsin for supporting our bike safety education! #WildRoseWildcats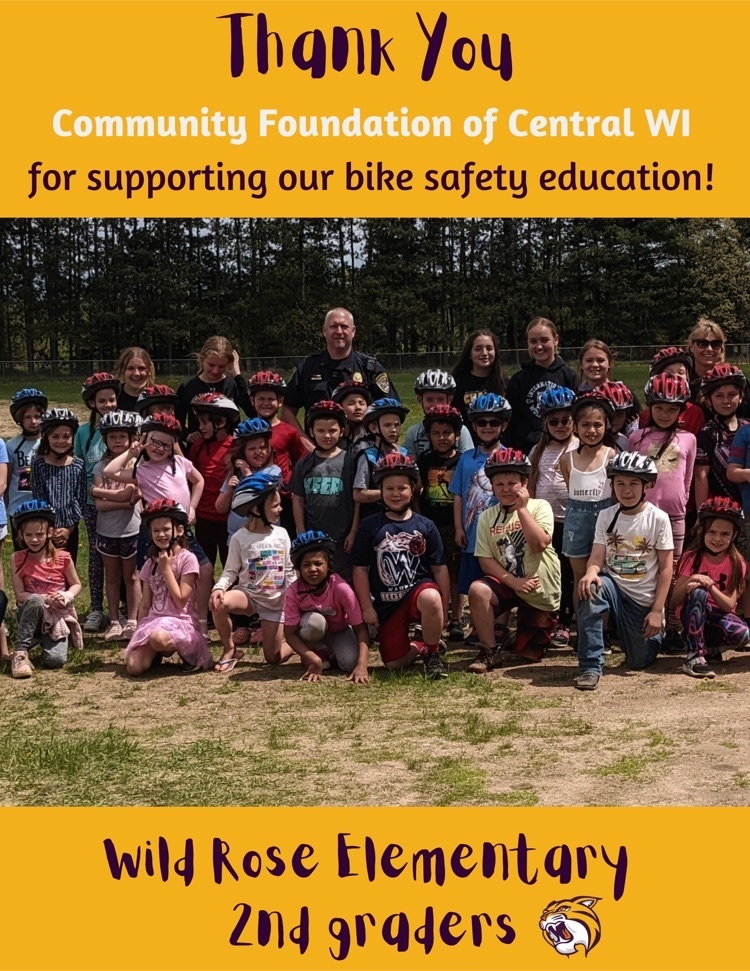 8th Grade Graduation starts at 7:00 PM tonight and it will be held in the Auditorium.
Congratulations and best wishes to the #WildRoseWildcats Class of 2022!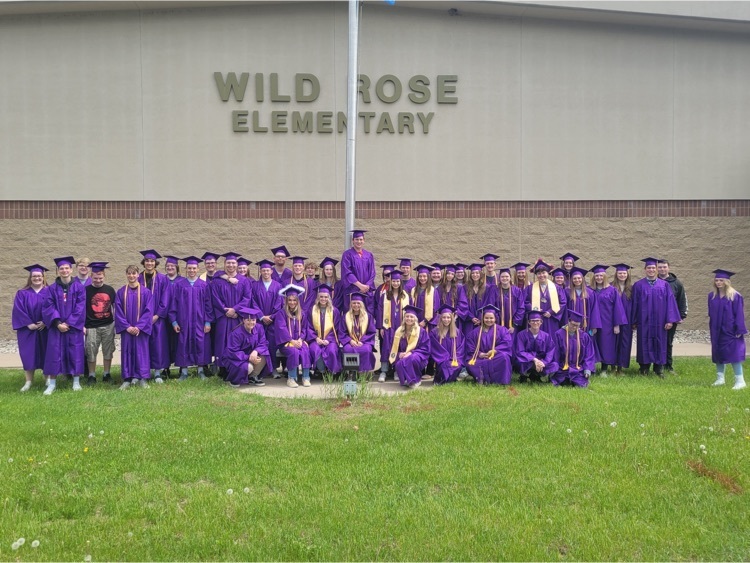 From FIELD 🌱 to FORK!🍴Thank you Wisconsin Spudmobile for teaching our #WildRoseWildcats about potatoes!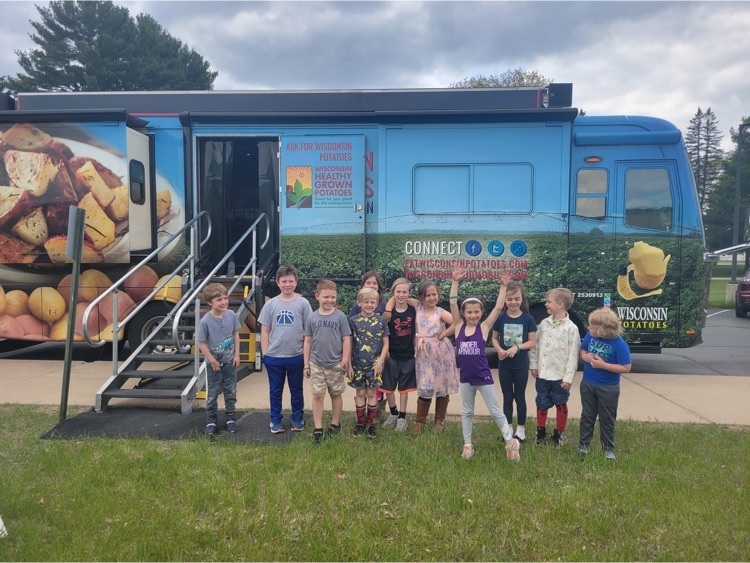 CONGRATULATIONS to Wyatt Bowen who became Wild Rose Middle School's first ever Individual State Middle School Track & Field Champion on Saturday May 21st at the meet held at Waupun! Wyatt won the triple jump with his jump of 37' 3.5." His jump was 11 inches further than the 2nd place jump. #WildRoseWildcats