COVID-19: CORONAVIRUS UPDATES
10-28-2020 - Starting November 11, 2020, we will be making a change to our School Calendar. We have provided a revised copy in the WildCat Chat for you to reference along with updating the website with the new calendar. Starting November 11 we will be releasing early at 2:00 PM on Wednesdays. This will allow our staff to have additional time to plan lessons, contact students/families, and prepare for the variety of instructional delivery methods needed. We are preparing instruction for students in the physical classroom, students that are temporarily virtual due to quarantine/isolation, and students that are in the virtual/remote environment. Working through all of these methods presents its challenges at times and we are providing this additional planning time to help ensure the high levels of our instructional programming.
Currently, the District has 1 positive active case. From the beginning of the school year, we have had 7 positive cases - 6 are recovered. We have one classroom in the virtual/remote environment. We are continuing in the PURPLE instructional model for all grades (4K-12).
10-12-2020 - School District of Wild Rose District Communication October 12, 2020
9-28-2020 - October 1 Parent/Teacher Conferences
9-8-2020 - Facial Covering Medical Exemption Form
9-4-2020 - The USDA extended the SSO waivers nationwide until December 31, 2020. This waiver will allow summer meal program sponsors to continue serving free meals to all children 18 and under, through the fall just as they had last spring.
With this Information just being released and working through the application period, the School District of Wild Rose food program will start to implement these changes starting on Tuesday, September 8th. Until then your students' lunch account will be charged according to their eligibility. This program waiver is in effect for Breakfast and Lunches served in the school buildings. For any student that is attending the remote/virtual program, we are offering an option for the student family to pick up the meals daily at the MS/HS between 1:15 and 2:00 PM. Please contact Jessica Monteferrante, our Food Service Director, via email to place your order 1 day in advance.
We advise you to keep your current balance in your account, this program is subject to discontinue at any moment, but the current requirements will expire on December 31, 2020.
If you have any questions, please contact Jessica Monteferrante or Diane Mrkvicka at 920-622-4201 ext. 1419/1403 or monteferrantej@wildroseschools.org, mrkvickad@wildroseschools.org
8-31-2020 - September 1, 2020 Return to School Frequently Asked Questions.
8-27-2020 - 2020-2021 Bus Routes
8-18-2020 - Open House Schedule
8-7-2020 - Student Learning Program Survey 2020-2021
8-7-2020 - Bus Registration Survey 2020-2021
8-7-2020 - School District of Wild Rose reopening for fall of 2020 Phases of Instruction Summary Model. We are currently in the Purple Phase.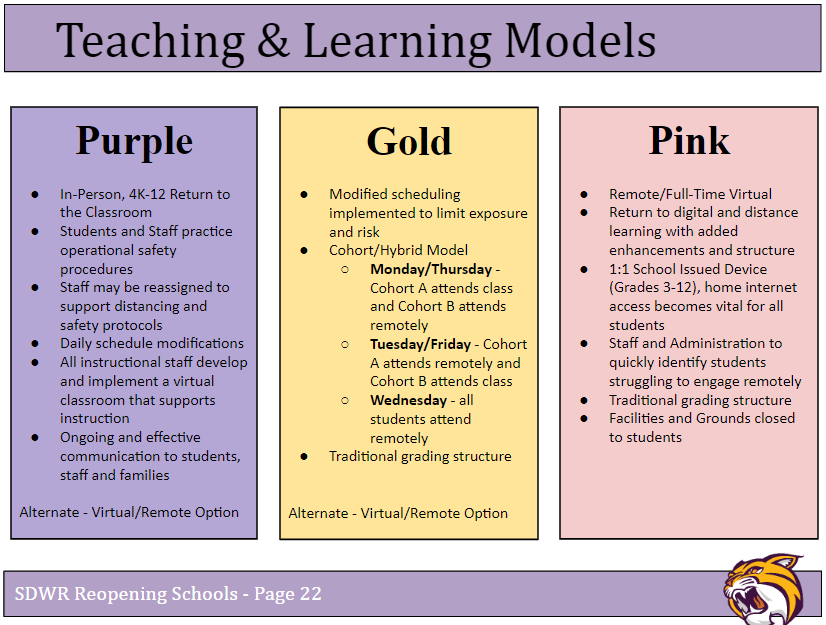 7-31-2020 - How to Safely Wear and Take Off a Cloth Face Covering
7-31-2020 - Mask Mandate FAQ
7-31-2020 - Governor Evers Statewide Mask Mandate
7-27-2020 - School District of Wild Rose Reopening Schools 2020-2021
6-23-2020 - Video Address for School Reopening Survey See link for survey below.
6-23-2020 - Wild Rose (Waushara County) Reopening School Survey
5-26-2020 - Update - Remaining Schedule and Material Check-In
5-23-2020 - Senior Slideshow Presentation released to Senior students and families.
5-22-2020 - High School Awards video released to High School students and families
5-20-2020 - Video of Scholarship Selection Ceremony was released to Senior students and families.
5-19-2020 - High School Graduation set for July 24 @ 6:30 PM
5-15-2020 - Waushara County Reopen Recommendations
5-14-2020 - Wisconsin Public Schools Remain Closed even with the Wisconsin Supreme Court Decision. The Wisconsin Supreme Court yesterday struck down almost all of the "Safer at Home Order," Executive Order #28. The Court did not, however, strike down the section that closed public K-12 schools. That section of the Safer at Home Order remains applicable and enforceable. Therefore, the Court's decision does not reopen schools, which remain closed through June 30th, the end of the current school year. The Wisconsin Department of Public Instruction will continue to provide updates as they become available.
Waushara County is working on guidelines to continue to turn the dial as we move forward with COVID-19. These guidelines will be available and shared with our school community once they are available.
4-24-2020 - MS/HS Grading Guidance for Skyward
4-16-2020 - Governor Tony Evers today directed Wisconsin Department of Health Services (DHS) Secretary-designee, Andrea Palm, to extend the Safer at Home Emergency Order #28 from April 24, 2020, to 8 AM Tuesday, May 26, 2020, or until a superseding order is issued.
This order includes schools: Public and private K-12 school buildings and grounds will remain closed for the remainder of the 2019-2020 school year. We will continue our off-site Instructional Learning Program.
We will follow up with more information and details in the next days/weeks. We will communicate important messages over the next days and weeks. We have been having conversations and making decisions trying to plan for this extension. There are a number of items we will work on finalizing and getting that information to you.
The School District of Wild Rose will continue the current Food-Service Program, curbside grab-and-go and deliveries until at least May 26th, 2020. If anyone would like to make a change to their foodservice needs, breakfast and lunch, please contact the school office.
School Report Cards will be arriving soon. We have adjusted our grading procedure due to the Safer at Home/School Closure Order. Please visit the District website and view the document specific to grading.
The School District of Wild Rose appreciates your support, patience, and understanding during this Pandemic event. We Are Wild Rose and we are going to navigate this together. We are here to help, if you need assistance please contact the school offices directly.
4-9-2020 - Wild Rose Guidance for Grading during COVID-19 Please access the link to view our revised grading procedures during the Safer at Home Order/School Closure due to COVID-19.
4-8-2020 - Status of School Events Canceled/Postponed/To Be Determined
4-2-2020 - We are continuing to work with state and local officials to determine some courses of action and planning as we navigate the many issues present today. At this time we are still under the State of Wisconsin Safer at Home order until April 24th at 8:00 AM. The President has also extended federal social distancing guidelines to April 30. No decisions have been made about the remainder of our school year at this time. We will be sure to continue to update you via phone, email and our District website under the COVID-19 menu option. Both, Wild Rose Elementary and our Middle/High have posted updates on the website, please visit and click on the links to review. The elementary is planning a drop-off and pick-up next week, details are on the website. Please contact the High School office if your breakfast or lunch foodservice needs have changed and if you are having technology concerns with school-supplied devices. Again, we thank you all for your continued support throughout this. We are hearing of many great things our students, families, and staff are doing. This partnership will continue to increase the positive culture in our Wild Rose community.
3-30-2020 - Our school offices will be open to the public Monday through Friday 8:00 AM to 12:00 PM. We are requesting that if you need something from the office that you call ahead, we will get the material ready and someone will meet you at the door. Thank you for your cooperation.
3-25-2020 - The breakfast/lunch program will continue through the Safer at Home Order by Governor Evers.
3-23-2020 - Good Morning - We are looking forward to continuing our educational programming today!
3-19-2020 - A message from Wild Rose Schools. We believe the continuity of our educational programming is very important to our students, families, staff, and community as we navigate the unique circumstances of our statewide school closure. We have updated our COVID-19 webpage, linking our educational plans specific to each building. These are general educational plans. More specific details about your child's instruction will be clearly communicated by the individual teacher. Please understand that our plans may change based on information gathered from the state of Wisconsin. We will continue to work with our staff, students, and families to make adjustments as we continue through this school closure. Please reach out to your child's teacher or school office with any questions.
Thank you for your patience, understanding, and cooperation.
Wild Rose Elementary School Closure Plan 3-19-2020
Middle/High School Closure Plan 3-19-2020
3-17-2020 - The purpose of the Food Service survey is to gather information from students and families so we can appropriately plan the continuation of our food service program. Parents, please fill out this survey for EACH child you have in the School District of Wild Rose that are interested in receiving free breakfast and lunch starting Monday, March 23. We are planning to offer a free "bagged" breakfast and lunch Monday-Friday from 8:00-11:00 AM at the Wild Rose High School Main Entrance. 𝗖𝗼𝗺𝗽𝗹𝗲𝘁𝗲 𝘁𝗵𝗲 𝘀𝘂𝗿𝘃𝗲𝘆 𝗯𝘆 𝗧𝗵𝘂𝗿𝘀𝗱𝗮𝘆 @ 𝟴:𝟬𝟬 𝗔𝗠.
Children will receive a grab-and-go lunch plus breakfast. Per USDA regulations, we are requesting children to be present in order for meals to be provided.
This program is solely for the pick-up of meals; meals will not be consumed on-site. We encourage families to continue to be proactive in reducing the risk of COVID-19 by not congregating at the pick-up location. Continue to wash your hands often, sneeze or cough into a tissue, and stay home if you are sick.
3/16/2020 - Good Evening- A message from Wild Rose Schools. The evolving COVID-19 situation has brought us to reconsider our previous plan. There will no longer be school tomorrow, Tuesday, March 17. Staff should report to the Middle/High School Auditorium at 8:00 AM tomorrow. Our goal is to work toward continuing our educational programming starting Monday, March 23. Our schools will be open starting at 10:00 AM tomorrow for any students and/or families to come and pick up materials. This event has caused us to continually evaluate the situation and we feel that closing tomorrow is the right thing to do for our educational community. We appreciate everyone's cooperation, patience, and understanding as we navigate and process our immediate future.