Waushara County Health Department will be offering a FREE walk-in Tdap immunization clinic for any student entering 6th grade. Aug. 9th 4-6pm & Aug. 17th 4-6pm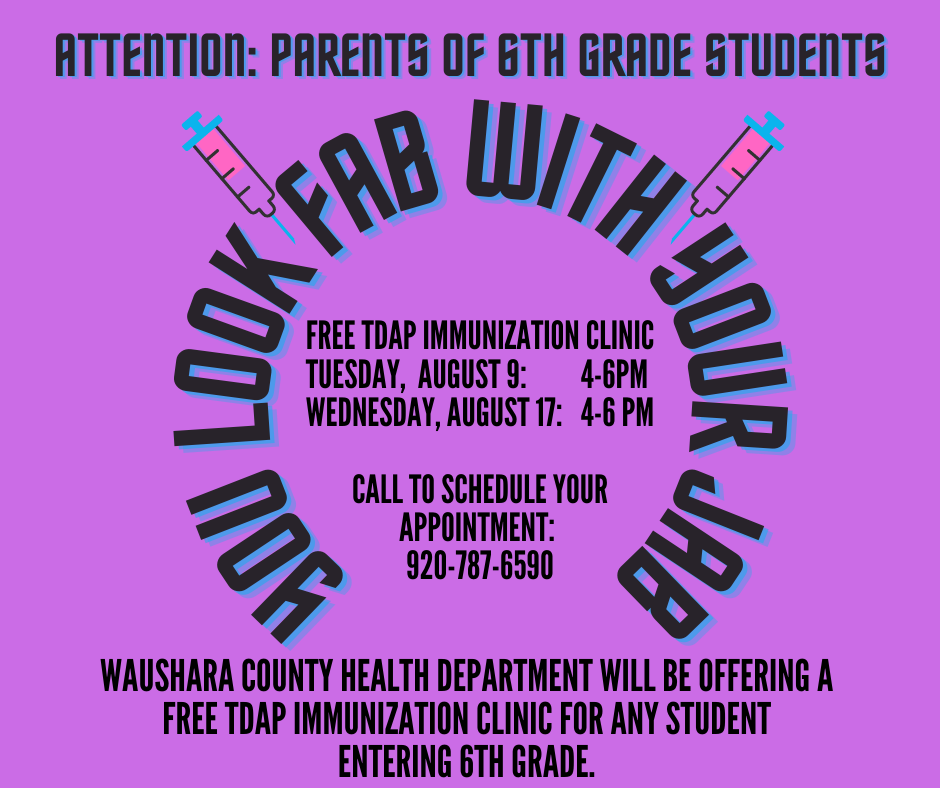 BUS DRIVERS ARE NEEDED! We are hiring route drivers, substitute drivers, and trip drivers. Trip routes are great for parents or family members who already go to their child(ren)'s games, coaches, or community members who like to watch WILDCAT events! Contact Cherie Hennes at 920-240-6554 or
hennesc@wildroseschools.org
for more information!

​The School District of Wild Rose is in high need of the following positions: 6-12 Choral Music Teacher School Bus Driver Food Service Director Instructional Assistant Custodian Part-Time Kitchen Substitute Teachers Substitute Bus Drivers Substitute Support Staff Applications are available online at
https://www.wildrose.k12.wi.us./page/employment
or contact Tammy Wilkinson in the District Office (920) 622-4201 ext. 1400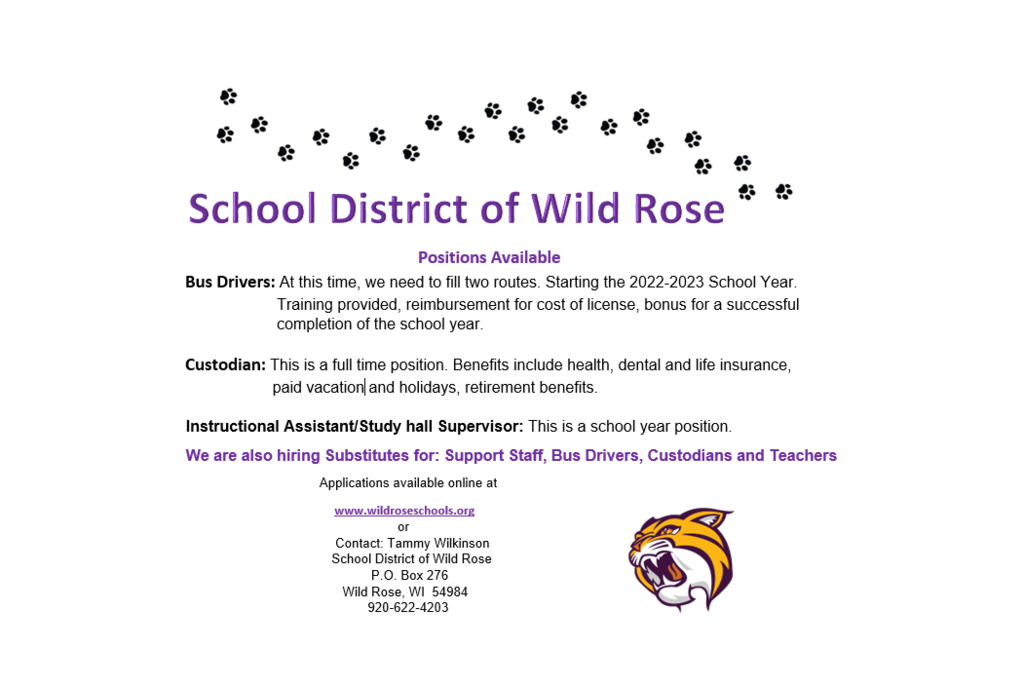 The School District of Wild Rose is searching for a Food Service Director. If interested please contact the District Office.

The School District of Wild Rose is in need of 2 Bus Drivers for the start of the school year. Flexibility in part-time or full-time.
Join the Walk-the-Waush Challenge and enjoy hiking the beautiful trails of Waushara County.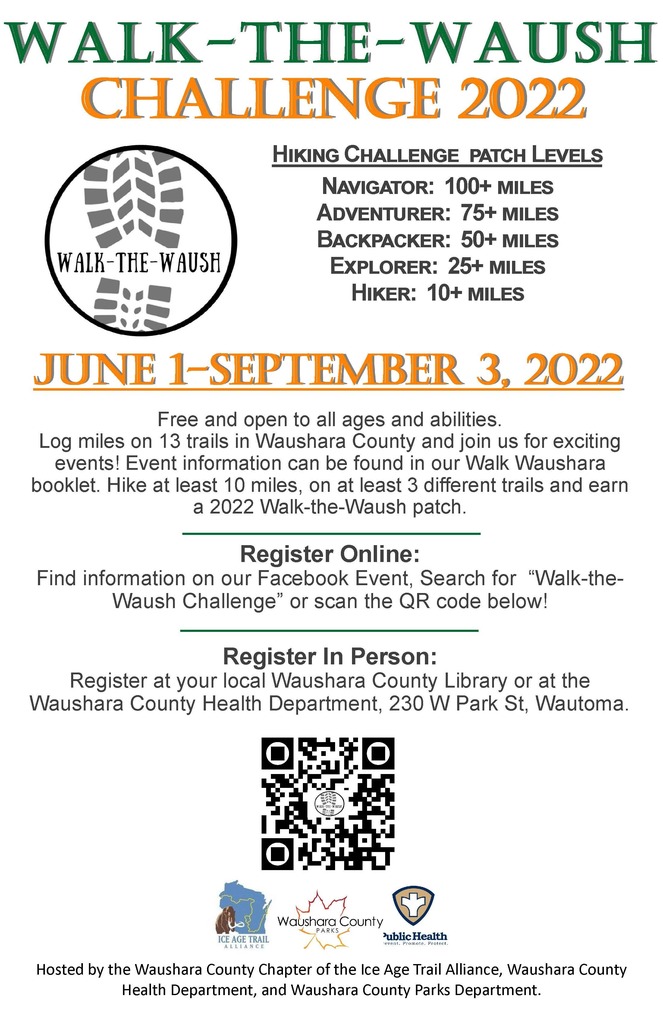 8th Grade Graduation starts at 7:00 PM tonight and it will be held in the Auditorium.

In recognition of the outstanding efforts of our students this year and their commitment to their education, the Wild Rose Board of Education has decided to shorten the last day of school. After lunch, students will be dismissed from school at 1:00 P.M. on Thursday, June 2nd. During the past two school years our students, staff, and families have been outstanding and had to adjust. As a district we want to recognize these efforts and provide a small reward to our students. We feel very fortunate to have students and staff who care and work hard to achieve success. Congratulations to our students, staff, and families for a job well done!

Due to the weather forecast the following athletic events have been postponed or cancelled today: JV Golf at Wisconsin Dells & Home Middle School Track Meet
Join Mr. Kent every Wednesday at 10:30am for storytime live at Patterson Memorial Library!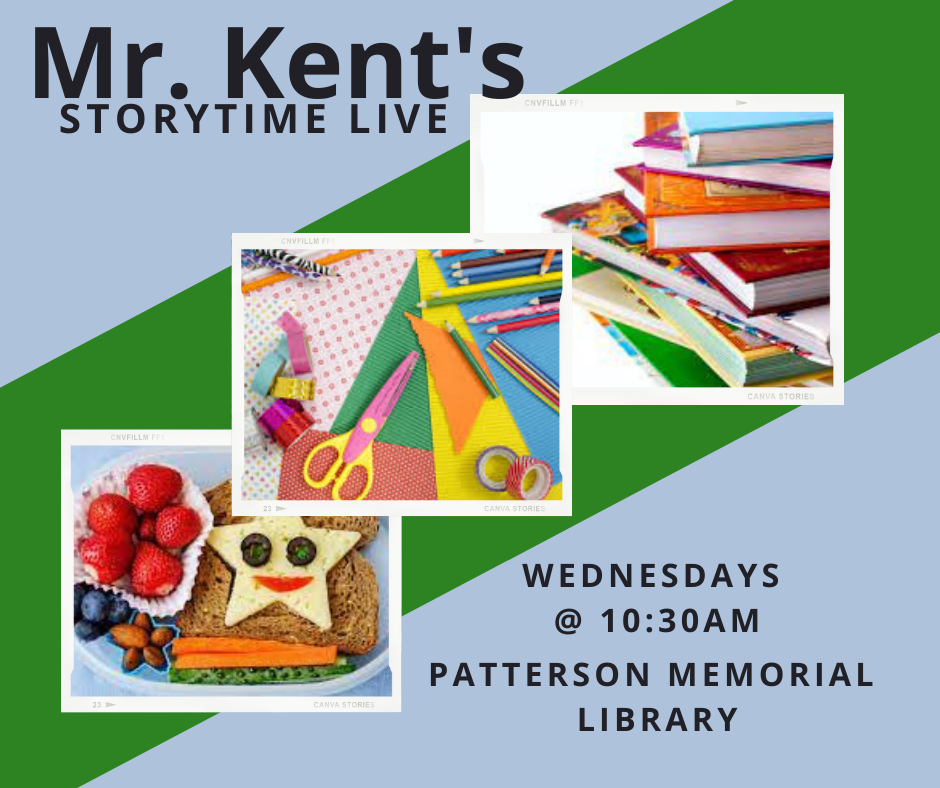 Due to the weather, the Middle School Track meet in Princeton tonight has been cancelled.

Due to the weather forecast tomorrow, the Middle School Track meet in Iola has been postponed until May 7
Celebrate Arbor Day! Plant a tree at the Pine River Community Park at 2pm.

Today is Administrative Professionals Day, a day we celebrate our administrative professionals. On Administrative Professionals Day, we recognize these individuals for their hard work behind - and directly in front of - the scenes, making sure things run smoothly throughout the entire School District. Please take a moment today to reach out and say thank you!

Due to Bowler needing to make up a conference game and not being able to find an opponent to fill that game, the softball game tonight has been cancelled. All other athletic events are being played as scheduled.
Create a tiny art canvas today at Patterson Memorial Library in Wild Rose!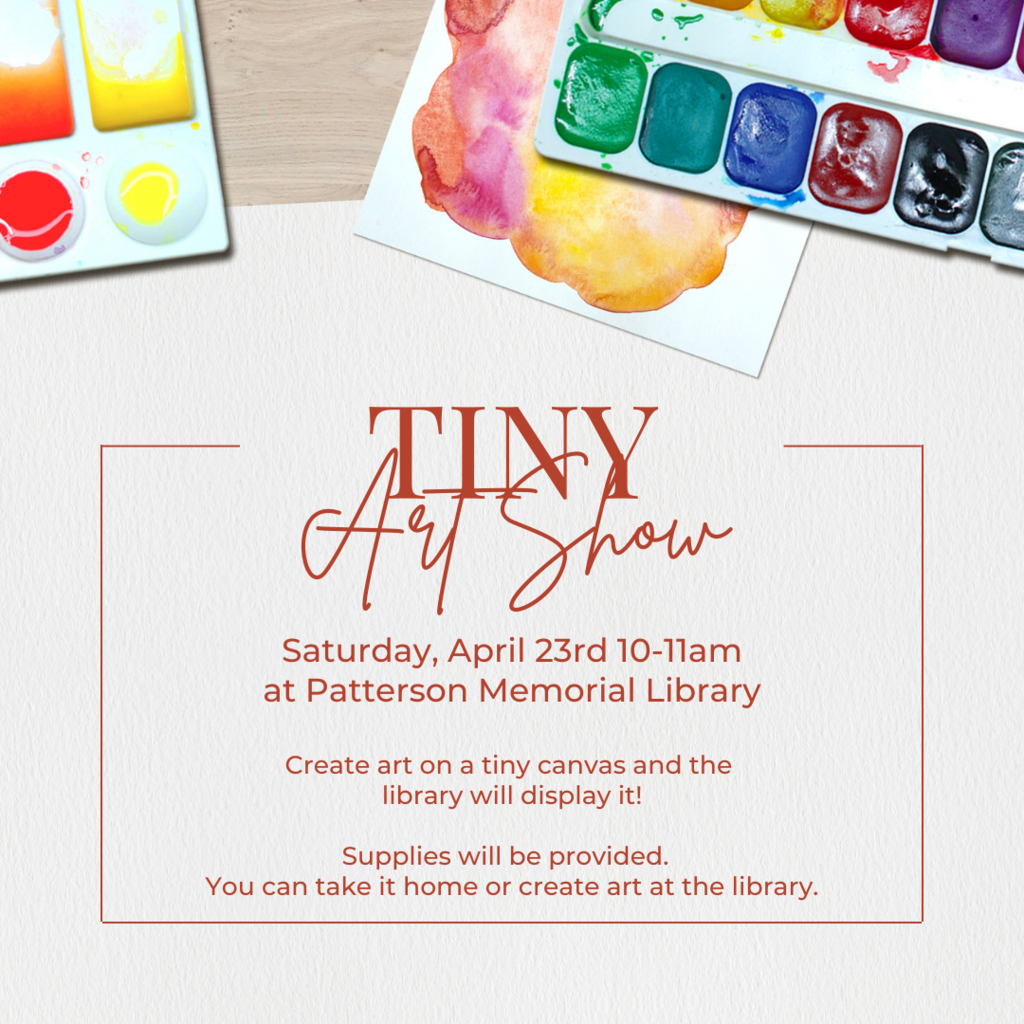 Due to the weather and field conditions, the Baseball and Softball games at home today have been cancelled.

Due to the field conditions and weather, the SB game and Soccer match have also been postponed today.

Due to the weather, the HS Track Meet at Tri-County today has been postponed until tomorrow. The MS Track Meet scheduled for tomorrow at Tri-County has now been cancelled.
Enjoy snacks and games with your family and friends at Wautoma library today from 11:30am-1pm.